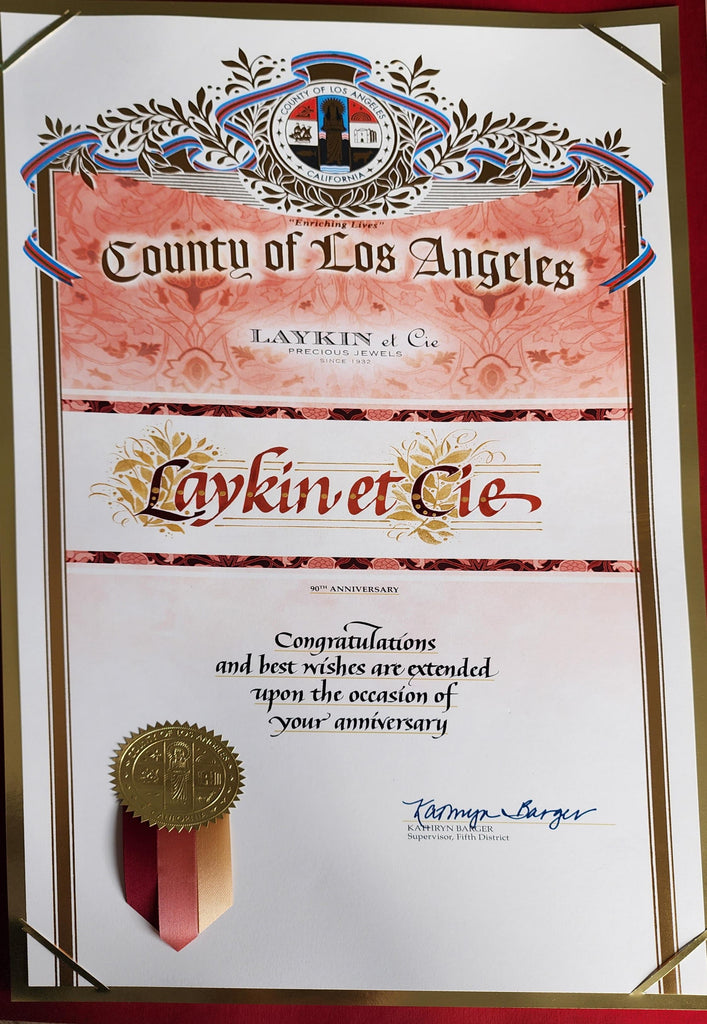 LOS ANGELES - Laykin et Cie, the oldest jewelers in Los Angeles, is celebrating its ninetieth anniversary this year. The iconic jewelry store, which has been a staple in the city's luxury scene since its establishment in 1932, is widely recognized for its unparalleled craftsmanship, exceptional customer service, and unique designs.
The firm was honored to be recognized for reaching this milestone by the Los Angeles County Board of Supervisors.

Over the past nine decades, Laykin et Cie has become a symbol of elegance and sophistication, attracting clients from all over the world, including celebrities and royalty. From diamond-encrusted engagement rings to exquisite timepieces, the firm has provided its discerning customers with some of the most exquisite and coveted pieces of jewelry.

The company's founder, Sol Laykin, established the business with a vision of providing exceptional quality and service to his clients. His commitment to excellence has been carried forward through the years by his children, grand children and great grand children.
 
The ninetieth anniversary of Laykin et Cie is significant not only for the store but also for the city of Los Angeles. The company has been a witness to the city's growth and transformation over the years and has played an important role in shaping the city's luxury landscape. Long before there were freeways, television stations, major league sports teams and jet planes; there was Laykin et Cie….producing heirlooms which would be treasured by families, newlyweds, captains of industry and movie stars alike.

To mark this milestone, the firm has planned a series of celebrations and events, including a number of exclusive exhibitions showcasing some of its most iconic pieces, the first of which was a gala event which took place at the venerable California Club downtown Los Angeles.  
Speaking about the anniversary, Erik Laykin said, "It's an incredible feeling to have reached this milestone. We are proud to have been a part of the artistic expression of Los Angeles for ninety years and to have served so many generations of Angelinos. When my great great grand parents came to Los Angeles in the 1800's and settled in what would eventually become Little Tokyo, they immediately focused on planting deep roots in the community. Through hard work they were able to establish an enduring legacy which we take great care to nurture and preserve. We look forward to continuing to serve our clients and to providing them with exceptional quality and service for many more years to come."
The ninetieth anniversary of Laykin et Cie is not only a celebration of the brand's rich legacy but also a testament to its enduring commitment to excellence and innovation. As the firm looks towards the future, it is clear that it will continue to be a shining example of what it means to be a true artisanal jeweler.
Continue reading