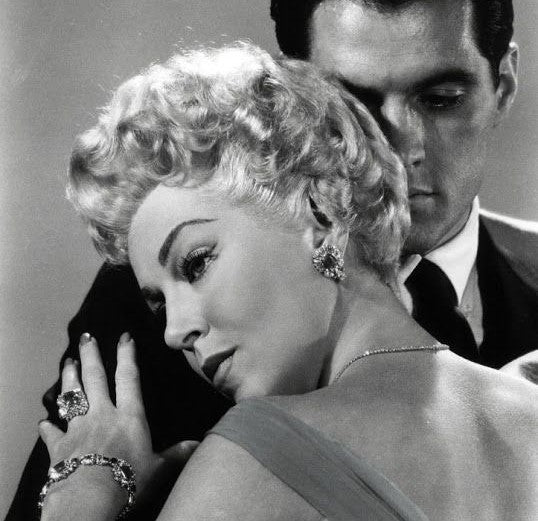 Studios once lavished their stars with jewelry, and many actresses wore their own high-priced baubles in the movies. Magazines like Photoplay chronicled every detail of stars' private lives, including the jewelry they wore and how much they spent on it. By mid-century, Hollywood was the guiding hand shaping trends in fashion and jewelry.
Marilyn Monroe was bedecked in faux jewelry when she sang "Diamonds Are a Girl's Best Friend" in the film Gentlemen Prefer Blondes, but the benefits for De Beers were genuine.
Star glamour began with opera and theater. In the 19th century, opera singers' jewels were itemized in fan magazines. Sarah Bernhardt was the first theatrical star to introduce the decadent glamour of the Parisian stage to America. She launched the craze for art nouveau jewelry in the 1890s, when René Lalique and other decorative artistes began designing ornaments for her theatrical melodramas. She strutted the stage in their often-sinister creations—such as crowns and breastplates of snakes and serpents—and she made them famous in Europe.
Bernhardt made her way to Holly-wood at the turn of the century. At the age of 67, she appeared in the lavish 1912 production of Queen Elizabeth wearing diamond- and pearl-studded brocade gowns, ropes of pearls and beads, and wigs festooned with baroque pearls. Her appearance in the movie did for pearls what her stage performances had done for art nouveau.
Gloria Swanson was another film star who used pearls to great advantage. In Male and Female (1919), she played a Babylonian princess who, in one scene, enters a lion's den wearing an elaborate costume—dress, headdress, armlets, rings, and medallions—made entirely of imitation pearls. Legend has it that the costume was so heavy, two men had to carry Swanson on and off the set. Pearl-laden costumes became a standard in period dramas throughout the '20s.
Swanson was famous for her jewelry collection. She was the second actress in Hollywood to earn $1 million—and, it was whispered, the first to spend it. To accessorize her sizable wardrobe, she often rented jewelry. In 1924 alone, she spent $500,000 on jewelry rentals—the equivalent of $5 million today. When she re-emerged in 1950 as the fading star in Sunset Boulevard, she wore jewels from her own collection, including oversized rock crystal bangles studded with diamonds.
Valentino popularizes watches. We can thank another movie star for making the wristwatch the favored method of telling time. Men were still carrying pocket watches in 1921 when Rudolph Valentino wore his Cartier Tank watch in The Sheik. The sleek timepiece got both its name and design inspiration from the tanks of World War I. Almost overnight, pocket watches vanished and wristwatches became de rigueur for men. Valentino was also fond of rings and other finery, but even in the Hollywood of the Roaring '20s, men couldn't indulge their predilection for jewelry as much as women could. After Valentino, jewelry became primarily the domain of the female stars.
The introduction of talkies marked the beginning of the studio star-making system. When a studio launched a newcomer like Jean Harlow, it set her up with a mansion and social circle—and an appropriately lavish wardrobe and accessories. By this time, Parisian jewelry firms like Cartier, Van Cleef & Arpels, and Mauboussin had opened American divisions and, along with Tiffany & Co. and Harry Winston in New York, were doing brisk business outfitting Hollywood royalty.
Art deco jewelry hit the screen soon after jewelers introduced their new collections at the 1925 Exposition International des Arts Décoratifs in Paris. Ropes of pearls and art nouveau's swirling forms suddenly looked dated as art deco took over as a symbol of prosperity. Deco-era favorites like the colorful flower basket brooch and stacks of wide mosaic openwork diamond bracelets became movie star trademarks in the '30s. So did the cabochon. Marlene Dietrich and other actresses discovered that cabochon gemstones—considered "low grade" before—photographed beautifully. Sparkling domes of sapphires and emeralds in bangles and rings began to appear both in the movies and in publicity stills.
Art nouveau jewelry enjoyed a brief renaissance in the '30s, when sultry wisecracker Mae West found that the curves of fin de siècle jewelry complemented her costumes—and her own voluptuous curves—in the period comedies she often starred in.
Along with the established jewelry giants, a few jewelers made their reputations—and their fortunes—by setting up camp in Hollywood and catering solely to the movie studios. Josef of Hollywood was one of these. When he saw Constance Bennett wearing a 19th-century gown with 20th-century jewelry in a period picture, he convinced the studio that they needed his expertise. He established a new practice: leasing jewelry to the studios rather than selling it. At one point, he was the only wardrobe supplier working for all the major studios simultaneously, and 90% of the jewelry used in movies came from his workshops.
High-end New York jewelers like Paul Flato and Trabert & Hoeffer-Mauboussin began opening branches in Los Angeles, catering to the movie industry. William Howard Hoeffer was one of the first to receive screen credit, for outfitting Claudette Colbert in the 1935 hit The Gilded Lily. The actress wore his "jigsaw jewel"—a diamond-and-ruby necklace that could be transformed into a bracelet, tiara, or brooch.
Bring on the red, white, and blue. While the taste for the over-the-top glitter of the 1930s cooled somewhat during the war years, clip brooches, button earrings, and deco geometry worked well with the padded shoulders and sculpted suits of 1940s Hollywood. Actresses often were photographed wearing flag pins and patriotic jewelry, spawning a trend for red, white, and blue. Postwar Hollywood jewelry was typified by June Allison's girl-next-door string of pearls and Audrey Hepburn's sophisticated diamond-ringed pearl button earrings. Occasionally, Rita Hayworth and Zsa Zsa Gabor piled it on a bit thicker. No screen credits for jewelry accompanied Gabor's movies; after eight marriages to various titans of industry, Gabor came with her own finery. In the late 1950s, turquoise became popular in fine jewelry, aided by the diamond-and-turquoise necklace and earrings Doris Day wore while dining with Rock Hudson in Pillow Talk.
Lana Turner donned the same combination in Imitation of Life, one of the first movies to make a serious attempt at the "commercial tie-in." Jeweler Laykin et Cie supplied the jewelry Turner wore in the 1959 film, hoping to cash in on her glamorous reputation and the film's box-office success. But publicity went awry when Turner's teenage daughter stabbed to death her mother's mobster lover, Johnny Stompanato. Her daughter was acquitted, but the sensational trial left little demand for Turner's jewels.
Sex goddess Marilyn Monroe became the 1950s' embodiment of unabashed jewel idolatry—and she did it with a combination of sensual pleasure and comic flair. "You know, I think you're the only girl in the world that can stand on a stage with a spotlight in her eye and still see a diamond inside a man's pocket," Jane Russell growls at Monroe in 1953's Gentlemen Prefer Blondes.
"A kiss on the hand may be quite Continental, but diamonds are a girl's best friend," Monroe sings in that film's most famous number. "Men grow cold as girls grow old, and we all lose our charms in the end. But square-cut or pear-shape, these rocks don't lose their shape!" The rocks she wore in the film were all faux, but that didn't stop diamond worship from becoming a Marilyn trademark, and the musical comedies Gentlemen Prefer Blondes and How to Marry a Millionaire were the best advertisement De Beers could have asked for.
Why De Beers sponsors reruns of To Catch a Thief. Grace Kelly did her part for diamond promotion in To Catch a Thief, in which Cary Grant plays a jewel thief in the South of France. Diamonds never looked better than they did at Kelly's throat during the midnight scene where she seduces Grant, fireworks bursting in the background. (De Beers sponsors this movie when it airs on American Movie Classics.) This was the role that initially attracted the Prince of Monaco, whom Kelly married soon after. With all the romance that surrounds this classic, it doesn't matter that the jewels used in the movie were fakes.
Elizabeth Taylor achieved notoriety as a Hollywood jewelry queen at the dawn of the '50s when she married hotelier Nicky Hilton, the first of a long line of husbands to shower her with jewels. Mike Todd contributed a 29-ct. diamond ring and diamond tiara. But it was the baubles Taylor acquired with Richard Burton in the 1960s that established her as a jewelry legend: suites of eye-popping rubies, emeralds, and diamonds; a ring bearing the 33.19-ct. Krupp diamond, one of the most beautiful emerald-cut diamonds in the world; and a 203.84-gram pear-shaped pearl known as La Peregrina, once owned by Spanish royalty. Cartier set the famous pearl in a magnificent choker of pearls, diamonds, and rubies that Taylor wears in the 1977 movie A Little Night Music.
Burton made his biggest purchase in 1969, a 69.42-ct. pear-shaped diamond for Taylor's 40th birthday. He bought it from Cartier for more than $1 million. Cartier had acquired it from Harry Winston, whose workshop spent eight months cutting the gem from a 250-ct. rough diamond.
Taylor's excesses marked the pinnacle of movie-star glamour and Hollywood-driven gem worship. During the '70s, ostentatious displays of wealth went out of fashion. The studio system that created stars like Taylor no longer existed. While actors' salaries were increasing, it was no longer necessary to keep up a glittering façade, and few actresses spent their wealth on showy gems.
Glamour and tradition remain a large part of the Hollywood mystique. When it comes to the value of Hollywood estate jewelry, it isn't the actual cost that makes a piece valuable. Instead, there are two important questions in the minds of collectors: Who owned it? and Who wore it?
Cathleen McCarthy, a Philadelphia freelance writer, specializes in articles about jewelry design, collectibles, retailing, and travel. Article written by Cathleen McCarthy for http://www.jckonline.com
Continue reading